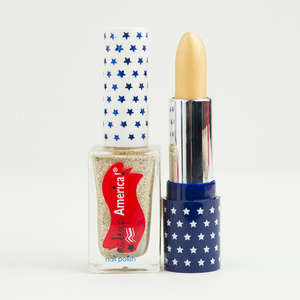 Sister Set: "Gold Standard" (Gold Standard Cream Lipstick + Gold Standard Nail Polish)
Stun them with beautiful matching lips and nails! This Makeup America! Sister Set includes one of our hydrating cream lipsticks with our matching nail polish to add a patriotic pop of color to your looks! Shine bright like the stars and stripes with Gold Standard. All Makeup America! lipsticks and nail polishes are long wearing and exude the American Spirit by proudly being cruelty free, paraben-free, non-GMO and suitable for all skin tones.
Proudly Made In America!
Ingredients